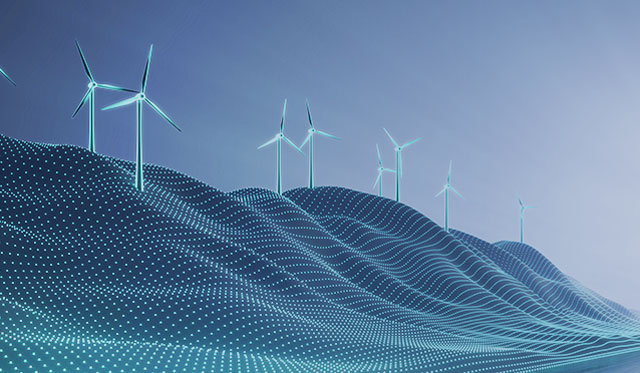 Usher In An Era Of Smart Wind Power
The rapidly developing wind power in China creates an immense market, while further growth can be expected. Based on our solid technologies and innovations as well as professional designers and experts, Goray Design Institute of Smart Wind Power is set up to offer smart wind power total solutions. Goray Smart Wind Farm is equipped with superior grid supporting technology and powerful statistics and analytical capacity, able to serve on project development, design, construction, investment, management, operation and maintenance. The digital, IT-based and intelligent Smart Wind Farm is on the horizon.
Green onshore wind power
As first mover in wind power development and construction, Goray Energy Group has abundant resources in the premium wind power regions, good conditions of grid access, and great potential for development. The excellent resource advantages enable us to explore consolidation model of solar, storage, g
Blue offshore wind power
Offshore wind farm is critical in renewable energy initiatives, and also one of the important directions in global wind power development. The extremely complicated environment and the salt pose a series of challenges. We follow the cutting-edge technology closely and explore new territories through
Full lifecycle management of smart wind farm
Project development

Design and consulting

Investment and management

Engineering and construction

Operation and maintenance
Operation Center

Evaluation center

overall assessment of farm design and operation capacity

Predication center

power generation prediction in ancillary power market

Control center

automatic dispatching of energy from wind, solar, grid and load

Maintenance center

capacity improvement by smart utilization of resources

Alert center

risk warning of smart sensors and equipment assets
Project Case
Zhangqiu Jiudingshan Wind Farm, Goray Energy
The total installed capacity is 150MW. Hybrid installation of 2.0MW and 2.5MW units is selected to reduce the cost per kWh significantly and improve the wind use efficiency. The equivalent utilization hours in 2016 and 2017 have increased 10%.
Jinan Shanghe Wind Farm, Goray Energy
The total installed capacity is 400MW. Considering the low wind speed and high wind shear in the plains, high tower and large turbine diameter are adopted. The thoughtfully-designed management covers the whole lifecycle, including project development, value analysis, location selection, construction
Heilongjiang distributed project
The total installed capacity is 40MW. The wind is merely 4.96m/s~5.96m/s on average, making it a typical ultra-low speed distributed project. After analyzing the challenges (complicated terrain, ecosystem preservation, high operation/maintenance cost etc.), Goray provides full lifecycle smart wind f